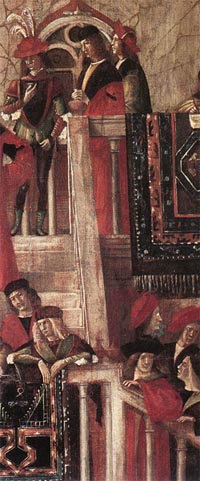 Vittore CARPACCIO, The Stories from the Life of St. Ursula, 1495

Heraldry
...'Who?' said Condé, who was losing, and willing to beguile his brother's attention from the game.
'The herald. Crawford of Lymond. The Scot you were discussing.'
'Oh.', D'Enghien was examining the contents of his purse. 'He carries London dispatches. - I believe so, yes.'
The Prince of Condé, sitting on the only chair with a back to it, leaned back and laughed. 'Ask him for forty, my dear. Then ask him what de Chemault's secretary scribbled under the report he sent the other week. C'est une belle, mais frigide. Une belle, vois-tu?' ...
from
Dorothy Dunnett
Queens' Play, Part IV: The Loan and the Limit; - 2, Angers: Boarshead and Apple

...
More about heraldry? Look up these links:
The Heraldry Society of Scotland
Heraldik - heraldry College of Arms
Heralds' visitations and the College of Arms
The White Lion Society


back