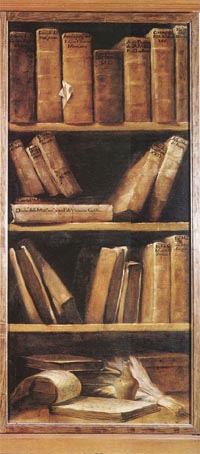 Giuseppe Maria CRESPI, Bookshelves, c. 1725

Books
... The night sky, indigo trough thirteen dormer windows, looked down upon the tiered ranks of fretted shelves, twelve on each side, which held the nine hundred manuscripts lovingly collected by Charles, and the five hundred Greek works by King Henri's father, along with the others brought to him from abroad by his collectors, and looked after for him by Budé. Go tell my wife, that curator had said without looking up from his book, when fire broke out and raged through his lodgings. Go tell my wife, I do not concern myself with domestic mattters.
Montdoré was not in his library tonight, but the silver candelabra were lit at the end of the long shining river of parquet, islanded by lecterns and benches and tables of marble and marquetry, and tall chairs, their fringed velvet stamped with the royal cipher. And at the furthest table, his head alone lightly propped on one hand, a man sat alone, absorbed in reading. ...
from
Dorothy Dunnett: Checkmate, Part IV, Chapter 4
...
More about books? Look up these links:

Evolution of the Medieval Book
The Medieval Book
EuroDocs Western European Primary Historical Documents
Herzog August Bibliothek, Wolfenbüttel: Digitale Bibliothek
Herzog August Bibliothek, Wolfenbüttel: Digital Library

back