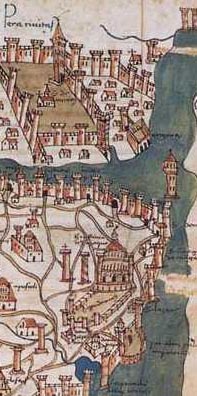 Illumination from Copy of Cristoforo Buondelmonti, Liber insularum Cicladorum, a. 1450

Constantinople
...Justinian rode into his new Church of St Sophia, the most beautiful and most costly in the world, and said, Solomon , I have surpassed thee. Christians held it and the city of Byzas before it for nearly twelve hundred years, Philippa. Then the Turks took it all from them.'
'When ?' she had said. (Kate would have known.)
'A hundred years ago,' he had answered. 'exactly. They took twelve kingdoms and two hundred cities from the Christian world; and made a stable of St Sophia under ceilings covered with gold. The ceilings are still there, though they have picked out the eyes of the saints and broken the statues. St Sophia is a mosque, and Topkapi, the official home of the Sultan and the centre of the Ottoman Empire, was built on the ruins of the sacred place of the Byzantine Empire, on a tongue of land surrounded by sea. The city was renamed Stamboul, or Dâr-es-Sâada, The Abode of Felicity. The seat of government of the richest country in Europe; the most cosmopolitan race since the Romans. It is referred to all over the world as the Sublime Porte. And over the Imperial Gate is written May God make the Glory of its Master Eternal.'
Its Master the Sultan. ...
from
Dorothy Dunnett: Pawn in Frankincense, 18 - Constantinople
...
More about Constantinople? Look up these links:

History of Constantinople
Nicetas Choniates: The Sack of Constantinople (1204)
The Fall of Constantinople, 1453
Constantinople, Greek Site
Constantinople, Turkish Site
Anastasian Wall Project & Water Supply of Constantinople

back